The Flow single rail stairlift is the market leader worldwide when it comes to curved stairs and is the smartest lift of its type. It is the only stairlift worldwide capable of swivelling during ascent or descent on stairs. This unique patented feature makes the Flow capable of fitting on virtually any staircase, straight, curved or spiral, overcoming angles that vary from -70⁰ up to 70⁰. This chair with its compact rail looks simple on the outside, but the technology it contains inside is truly ingenious.
To allow for maximum free space on the staircase, the rail has been specially designed to stay very close to the edge.
It is only 8cm in diameter and available in several rail colours to ensure a pleasing match to your décor.
By using its patented power swivel system (ASL technology), the Flow is the only chairlift worldwide that can make its way through staircases as narrow as 61cm, swivelling the footrest as it goes.
It is undoubtedly the world's most adaptable stairlift and no other manufacturer can boast this.
The Flow has an ergonomically shaped seat in order to offer the user the most comfortable ride.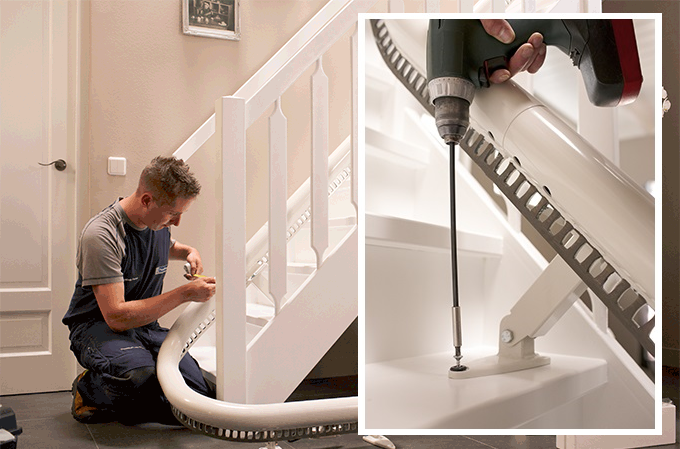 The optional curved armrests fold inwards, to make the user feels more secure during travel. The seat height is adjustable to several positions, providing maximum comfort to any user. The special drop nose rail option is an added space saving feature, in case of obstruction such as a door at the foot of your stairs. Whether the stairs have multiple landings or unusual shapes, Flow can be customised to fit with ease onto the most challenging of staircase shapes. When not in use, the arms, seat and footrest all fold away very simply.