If finding space for both a flight of stairs and an adjacent vertical platform lift is proving to be a real challenge, the innovative and convertible FlexStep stairlift could be the answer you are looking for. 
Designed, developed and manufactured in Denmark, it is flexible and equally useful for pedestrians and wheelchair users alike.
This adaptable, space-saving and versatile staircase gives you both a stairway and a stairlift at the same time, even in the narrowest of spaces.
The FlexStep can be configured as a flight of stairs and then at the touch of a button to be transformed quickly into a platform lift.
It is suitable for both indoor and outdoor use, allowing access to areas with differences of floor levels from 48cm up to 1.25 metres in height and weight load up to 400kg.
The available standard step widths are 70cm up to 100cm.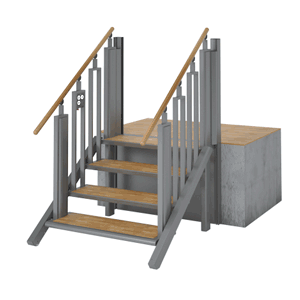 The lifting system FlexStep is manufactured to be user-friendly, operated simply via the buttons located inside the lift, a remote control or the external controls located at both levels near the lift. Due to its smart and intuitive operation coupled with adaptable design, it is the ideal access solution and users are quickly acquainted with its operation from the very first time.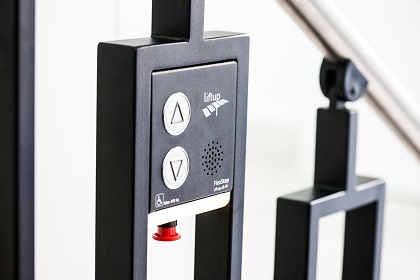 There are many customisation options, offering you the flexibility to match your existing décor if you wish, or the option of choosing something complementary in style.
You may customise it by selecting your favourite inserts for the steps' surface, the handrail, type or colour of the balustrade and more.
The FlexStep has many safety, features, ensuring a risk-free operation for its users.
No matter which configuration you choose, two up to six steps, the surface below each step is attached to pressure sensors, providing absolute protection against collision with anything below them. 
It has four efficiently synchronised motors, one at each corner, which operate simultaneously to ensure a smooth, comfortable and safe movement between levels. The equipment conforms to all stringent safety standards of the European Union.