Our company's headquarters including our design and production facilities, are located in Austria. At ASCENDOR we aim to set new standards with our lifts in terms of design, safety and quality! 
Our unrivalled levels in technological development, innovation and uncompromising standards, ensure unimpeded installation and simple end-user operation, as well as dependable after sales manufacturer's support, for our high-tech platform stairlifts. The electronic and mechanical components of our systems, exceed by far the legally required European standards and guarantee the long-term reliability of our products. 
Compact design is one of our guiding principles at ASCENDOR. The slim form of our lifts with a folding platform, ensure that your staircase remains free of obstructions. 
The lift is guided along two parallel stainless steel rails by a set of rollers. The upper rail can be used as a handrail. The smooth and soft start and stop performance, ensures that travel is a pleasant experience.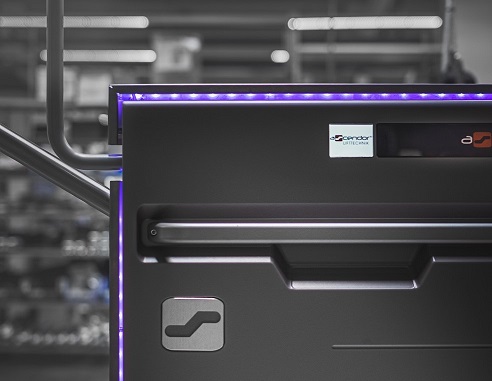 Our lifts require basic maintenance only and their reliability has been proven time and again. 
The operation of the lift is completely battery-operated. The batteries are recharged when the lift is parked at either landing.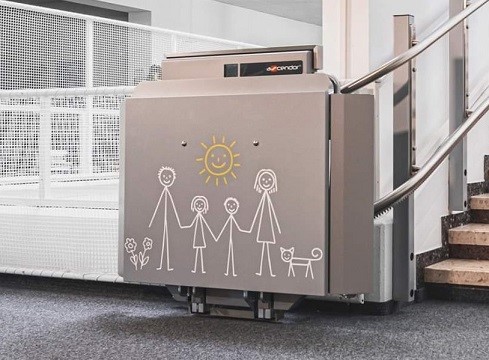 When not in use, the lift will automatically switch off after a period of time, in order to prevent a deep battery discharge, if it has not been properly parked. 
The modern touch-sensitive membrane controls, ensure that even people with reduced physical abilities or motor skills can also operate our lifts.
At ASCENDOR, we constantly strive to produce the perfect access solution to the challenges presented by every personal situation. Our efforts are focused with this aim in mind and we do not cease in our endeavours until we have managed to find the appropriate solution, which will improve your mobility and freedom.
To achieve this objective, we are continually prepared to rediscover our own creativity.  
We optionally offer customised decoration. Select one of our design options or allow us to decorate the lift as per your personal inspiration, transforming your lift into a work of art to blend harmoniously with your home furnishings.
Make your platform lift an extension of your unique individuality. Whatever you desire, original and amusing or classic and timeless. Your personal motif will create an eye-catching lift, bestowing a personal touch.
On the images below you may see installation examples of our PLK8 platform lift, made for indoor or outdoor curved staircases.