The DomoStep is a vertical platform lift for people with reduced mobility or wheelchair users that need to overcome height barriers up to 100cm or 160cm, depending on model. It is a compact access system, ideal for both public and domestic premises. The positioning of the platform lift requires minimal or no pre-installation building work, since it stands on the floor.
The platform lift requires minimum of space since it has no machine room or any external cabinet.
It is activated by hold-to-run buttons on the platform or external remote controls at floor levels.
DomoStep is suitable for any environment, homes, public buildings, shops, schools, hotels, catering outlets and any other area to serve people with impeded mobility. 
It requires single phase power supply of 230V and has a load bearing weight capacity of 340kg.
Available platform sizes are 900mm x 1250mm and 900mm x 1400mm with a lifting speed of 5cm/s.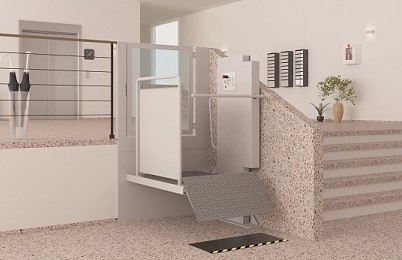 The DomoStep conforms to all European safety standards and is certified according to machinery directive 2006/42/CE.