The NZ-200 is an enclosed platform lift for access to buildings where installation or operation of conventional elevators is impossible. It is the least costly solution for vertical transportation up to 12m, and may be installed either inside or outside any building, provided there is adequate space.
It is the ideal access system for private homes, commercial buildings, hospitals, schools and public institutions. Manufactured according to Machinery Directive 2006/42/EC, it meets all safety criteria and standards.
The platform-propelling mechanism including the motor, chains, brakes and other components are all discreetly enclosed inside a tower located laterally within the structure. The ΝΖ-200 must be securely anchored on a solid concrete part of a building. Installation requires no pit, but instead the preparation of a solid concrete base with built in electric connection and adequate drainage, for mounting and connecting the structure to the power supply.
The external frame is made of rust-proof aluminium frame and thick Connex safety glass (alternatively polycarbonate Lexan).  The other parts of the lift are made of galvanised metal and stainless steel.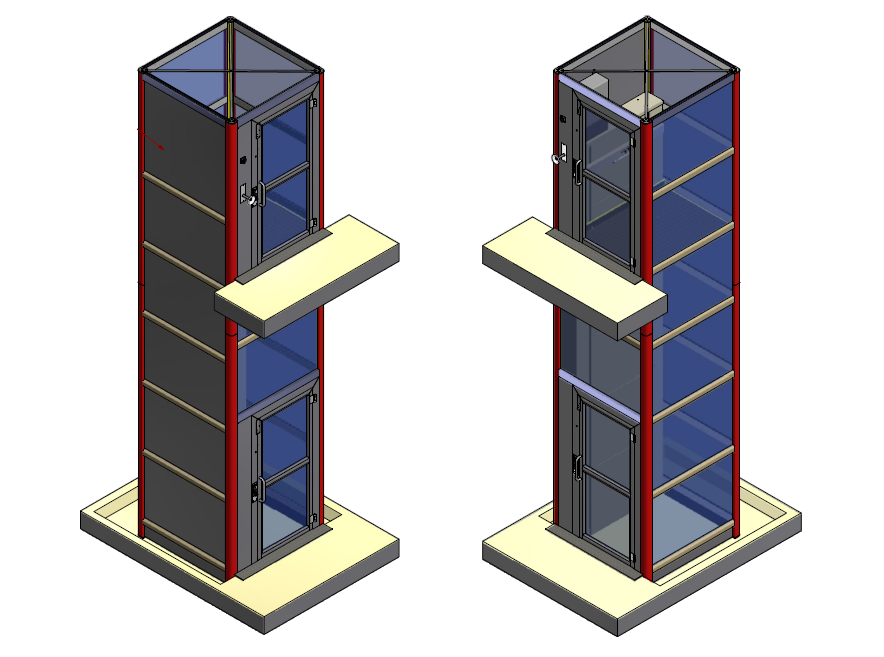 The standard colour is grey RAL7035, and alternatively any other colour in the RAL range. The NZ-200 may be optionally supplied with amenities such as telephone, internal lighting, and upholstered foldable seat.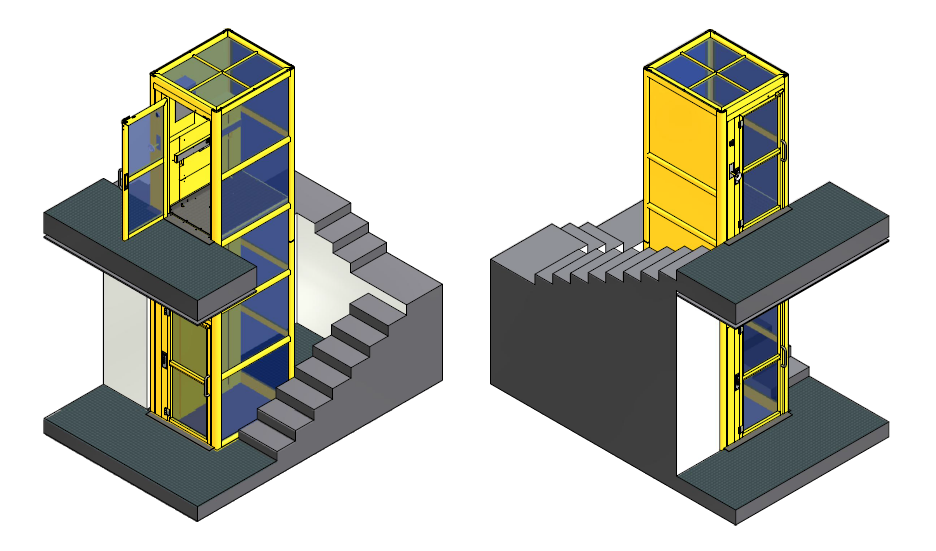 Entry and exit doors may be installed on any side, except the side with the tower of enclosed mechanism. The doors are blocked by electric locks, to unlock only when the platform reaches a given stop on the ground or any upper level. In case of emergency and as added safety, the lift emits a signal by simply pressing the alarm button.
The NZ-200 platform lift is highly energy efficient, with a motor requiring only 1.5 kW of power input. The lift is operated by pressing the push-to-run button, and may lift up to 315 Κg of weight, up to four persons or a person in wheelchair. The platform size is 1400mm x 1100mm and the shaft externally 1570mm x 1510mm.
The platform lift is customised and its entry/exit points constructed to meet the precise floor heights and required levels of a building; hence the NZ-200 may only be supplied upon placement of order and requires several weeks for manufacturing, shipping and installation.