The NZ-400 is a vertical platform lift, specially designed to provide access for persons on a wheelchair. It is operated by pressing the push-to-run button, and can lift a total weight of up to 400kg. It serves heights from 350mm up to 1,650mm. The dimensions of the platform are 1,470mm x 1,100mm and installation requires a 370mm deep pit beneath the equipment.
The doors are blocked by electric locks, to unlock only when the platform reaches a given stop. The NZ-400 is equipped with safety bar and alarm button for added safety in case of emergency. It is highly energy efficient, as it requires only 0.8 kW of power input. With a speed of 0.8m/s, it is suitable for either indoor or outdoor use.
The NZ-400 platform is suspended on a hydraulic scissor mechanism, and the movement of the platform is guided by conveniently placed control buttons on and off the platform. It is the ideal access system for private homes, commercial buildings, hospitals, schools and public institutions. Manufactured according to Machinery Directive 2006/42/EC, it meets all safety criteria and standards.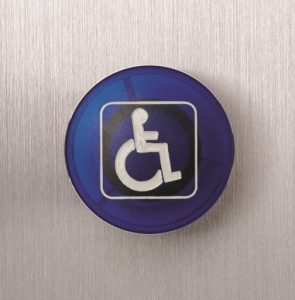 The external frame of the NZ-400 is made of galvanised steel and thick Connex safety glass (alternatively polycarbonate Lexan).  The other parts of the lift are made of stainless steel. The standard colour is grey RAL7035, or may be supplied instead in any other colour of the RAL range.